Guide to Boosting Productivity for Small Businesses Guide to Boosting Productivity
Understanding Today's Employee 
Eliminate Silos, Once and For All 
Get Everyone on the Same Page 
Use the Right System for Your Business
When you are running a small business, every minute of every workday matters. You need employees to be highly productive so you can stay out of the red — and hopefully turn a profit. So, you make sure a fresh pot of coffee is brewed, make sure everyone knows their duties and then step back into your office while your employees get to work. With coffee in hand and goals in mind, they are ready to take on the world and grow your business alongside you.
At least, that's how it would work in an ideal world. Unfortunately, productivity is one of the biggest issues facing workplaces today. Of course, when this problem is mentioned, the first thought is that employees are becoming lazier and more distracted, taking away from their focus in the workplace. While there's no arguing that these factors do play a role, they are not the main culprits.
Much of the decline of productivity among small businesses can be attributed to trying to run the company as if it were a massive corporation. In those sorts of settings, there are no individuals, but rather departments that play a very specific role in creating the final product. Small businesses must work differently. The workplace is a living, breathing environment. It may change from day to day as the needs of both your business and those of your clients evolve. Embracing and encouraging these changes can boost productivity for your business.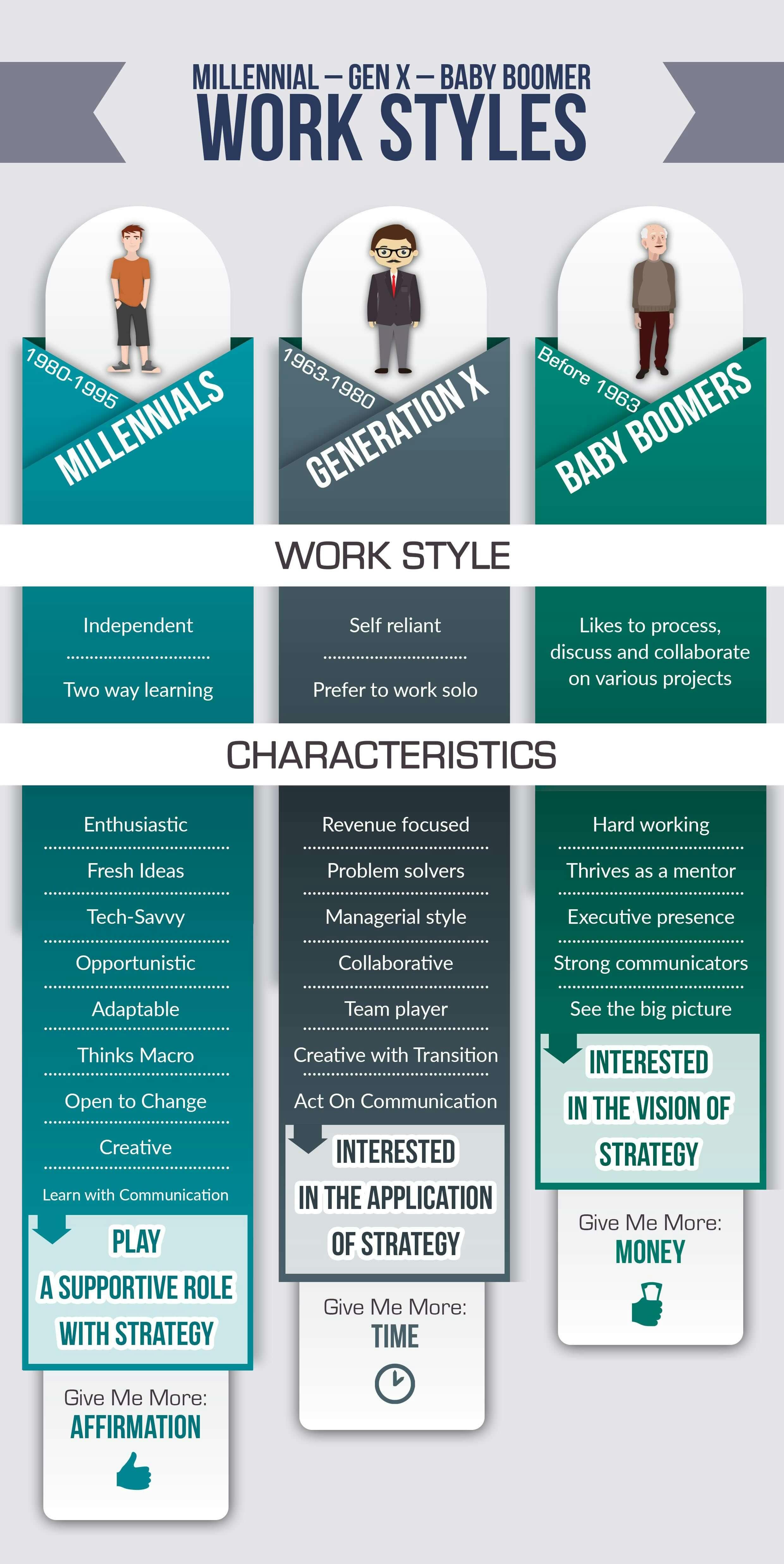 Understanding Today's Employee
Let's face it: few people can say the word "Millennial" without a sour taste in their mouth. Even those who are considered part of that generation don't enjoy the title. Yet, they are the largest generation in the U.S. labor force today. And as they have entered the job market, they have brought with them new ideas that have permeated through "Gen X" and beyond. And in workplaces where these ideas are accepted, there is more productivity.
Despite popular belief, Gen Y isn't lazier than older generations. Rather, they work differently. Instead of wasting time in unnecessary meetings, they would rather send and receive emails or instant messages that directly relate to their tasks at hand. That's not to say all meetings should be eliminated. But having one structured, actionable meeting a week is generally more productive than having meetings just for the sake of it. That meeting allows employees to consider what information they need to create a plan for accomplishing their goals for the coming week.
One of the biggest killers of productivity is burnout. This is especially true if your employees spend much of their day in front of a computer screen or otherwise doing the same action over and over again. Encourage your employees to step away from their work and take breaks. Not only does this help prevent burnout, but oftentimes we get our best ideas when we aren't focused on the problem at hand — a.k.a. "Shower thoughts." At the very least, employees taking more breaks means they are talking more with their coworkers, who may have unique insight into a problem. As such, encouraging them to step away from their workstation for a while helps tear down "silo culture".
Eliminate Silos, Once and For All
Silos have been a major buzzword for at least the past 30 years. In theory, it works. Every department has one job to do, and by doing it well, the product is one step closer to being completed, like an assembly line. While that may work in a large factory setting, it can be an absolute killer for small businesses when it comes to productivity. With silos, communication breaks down. So, if there is a problem in, say, quality assurance, marketing may not get word to pause advertising until the issue is resolved. Now, marketing is wasting time working on a paused campaign instead of focusing on other tasks.
Clearly, eliminating silos is necessary to boost productivity. To do so, small business owners should meet with their leadership/management team to create a unified vision for the company. This helps tear down the "my department" mentality in favor of one that focuses on "our business." Once that vision is in place, make it actionable by formulating a common goal. Together, a common vision and goal create a holistic system that drives the business forward and increases productivity.
Once leadership is on board with your company's new business direction, it's time for implementation. While employees are often willing to accept the death of silos in favor of a more open and communicative workplace, it never hurts to motivate and incentivize. More collaboration means faster work. So, offering small rewards for meeting tighter deadlines, at least in the beginning, is a great motivational tool to maximize productivity.
Get Everyone on the Same Page
The key to collaboration is communication. However, that communication must be organized in order to be effective. Having a company social network is the ideal way to keep track of tasks, conversations, documents and other important details. With such a system, silos are effectively destroyed as every employee and member of management is able to be part of the conversation. Moreover, collaboration tools help identify and eliminate unnecessary steps in a process to streamline it, thereby increasing productivity.
If you employ freelancers, even across state lines, a workplace collaboration system helps keep track of what they have on their schedule so you know who you can assign tasks to, and quickly. Likewise, leadership can keep track of processes and tasks on a simple dashboard to make sure they are being completed on time. With this streamlined system, less time is spent by management worrying about day-to-day operations and instead allows you to focus on strategic operations.
Even before you reach the size where you need to hire new employees, using the right tools can help you maximize — and reduce — the time you're in the back office handling logistics, while also helping you maximize the time used to actually grow your business with sales and customer service. With our customizable software, you can utilize tools that manage your invoices, logins and other information that is instrumental to running your business smoothly. Then, when you are ready to hire employees, the software can be easily scaled to match your growth and be the company social network you need to boost productivity.
Use the Right System for Your Business
Using an effective company social network is a simple yet powerful way to boost productivity for your small business by increasing collaboration and communication. Yet, many systems available are designed for large corporations, or have no way to scale as your business grows.
Guide to Boosting Productivity for Small Businesses
With the workplace collaboration software from Company.com, you can create a customizable dashboard for your business that tracks the important things, increases productivity and grows with you.